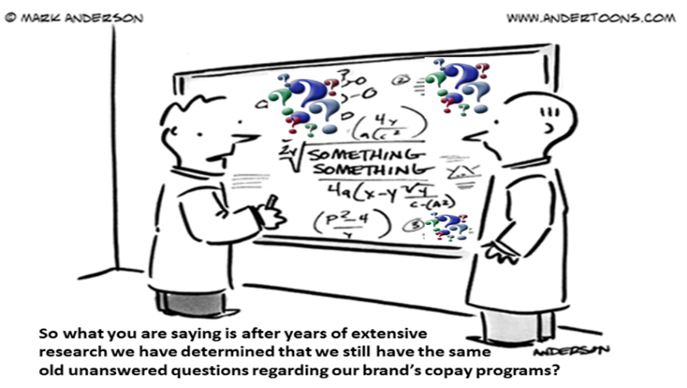 Here we will try and tackle the most frequently asked questions about copay programs:
Are these programs worth my spend? The short answer here is yes…on average, these programs are certainly worth your spend since they lower the financial barriers to filling scripts and they help many patients. In addition, if structured correctly, these programs can increase patient trial and adherence which is good for the brand long term. The key is getting this growth while still meeting your financial objectives for this year and beyond.
Do copay programs generate increased adherence? Yes, copay programs will most likely generate increased adherence by lowering patients' financial barriers and lessening the impact of cost. Of course, there are many reasons why patients are not adherent and cost may not be the driving factor. Even if all patients were given their drugs for free, we'd still be talking about how to increase adherence! With limited funding for a copay program, you will have to make tough choices about how to structure your program to meet your objectives. For example, do you set up the program to give something to everyone or to give more to the patients who need it most? And what should you do about your insured not covered patients until they meet their annual deductible? Etc.     
What is a good ROI number for programs like these? What you may find surprising is that some of the best ROI's we have seen are not necessarily the best programs for the brand. Brands that focus purely on ROI are often not happy at year's end since program ROI doesn't consider the impact on the total business (Total scripts, total revenue, impact on adherence and trial etc.) The key is to use ROI as one of the KPI's you might look at in addition to objectives for trial, adherence, sales, and gross to net. You need a well-rounded set of objectives to shape a well-rounded program.
What's the best patient offer for my brand? The answer is simple… The best offer is the one that best meets your current brand objectives. There is no one offer that works for everyone…never was…and there never will be. The key is being able to actually do the analysis work to determine the best offer for your brand.
You will need a deep understanding of the business and how each of the copay offer levers will impact results. There are many questions to be asked and answered and many data components that are needed. The data is typically not available from a single source which adds another layer of complexity.
Should I escalate my patient copay offer over time? Generally, No. An escalating copay offer is one that increases the longer the patient is on the drug. For example, this could be a "Pay $20 on the 1st script, then pay $15 on the second, and pay $10 on scripts #3 through #12. Some brands implement this strategy in the hopes that it will increase adherence at the time the patient is most likely to discontinue therapy. It sounds like a sound strategy, but how do these escalating offers perform?
The extra spend can only be offset by higher trial and adherence levels… and in our experience this rarely happens. You may see some increased adherence, but it will most likely be minimal and in most cases those extra purchases will not be enough to offset the extra cost of the program.